Please see the Bio page for ministerial training information.
DANCE HISTORY
In July, 1996, Catherine decided to develop a Dance Arts program in her Brooklyn community after a few years of teaching foundational modern dance classes in Astoria, Queens. From 1996 through present, SoulFelt's ministry has been sustained by the hand of God. The ministry is funded by the nominal teaching/workshop fees, love donations and Catherine's personal income.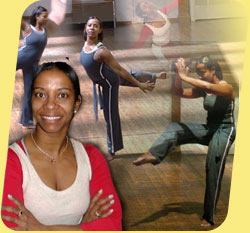 One of the early inspirations of the program was to provide neighborhood youth with easy access to explore formal dance training in a fun and nurturing environment with minimal cost to the parents.
Catherine began taking dance classes in junior high school and went on to pursue Modern Dance at the High School of Performing Arts where she graduated. She then entered Marymount Manhattan College (Business major) and shortly thereafter completed Long Island University's Paralegal Studies program.
Catherine continued taking drop-in modern and ballet classes at Joffrey Ballet School and NY Dance Space in Manhattan. In the Fall, 2003 she entered a Creative Arts Therapy program at The New School University in Manhattan with a focus on Dance Movement Therapy. Catherine also served for 1 year on the Dance Panel for the Brooklyn Arts Council.
Catherine married and moved to Massachusetts in late 2005. The Lord has continued to cause her gifts to "make room for her". Catherine enjoyed teaching Gospel Dance classes open to the public in Boston dance studios for three years and she connected with many who support God's mission for her. In 2009, Catherine settled into a wonderful church home where she seasonally teaches a Discipleship in Dance series. http://www.leondejuda.org/en/content

Catherine continues to maintain her secular vocation working in the corporate law sector.